Your server name: [SBF]Keelo
When did this happen (date, time)?: Near 8:30pm (Eastern Time) - 07/04/2013
Who are you reporting?: Malka[No]Opasna, They_call_me_Rocky
What are you reporting this person for?: Well, they came up onto the server, mostly DM'ing. Then it turned into an hack killing-spree.
As you can see on the picture, he (Malka[No]Opasna) killed [TDB]Smokey with a knife, which I believe is hack. I also seen one of them killing other player(s) with a MP5, I doesn't have SS to prove this part unfortunatly.
I logged off for nearly twenty minutes then came back. I started to experience strange lags in the area of Ganton, I then reloged.
After reloging, I noticed it wasn't my PC since nothing was going wrong with it. I drove to Grove Street then I discovered the-- wasteland.
Well, I'm reporting because I think you admins can trace theirs IP's/names then ban them before they come back, that'd be great!
Evidence:
Alongs with the two screenshots, several players can testify. [GSF]Kollegah$, [TDB]Rhyme, [TDB]Smokey, Kev'.
As you can see, seems like they've a good sense of humor: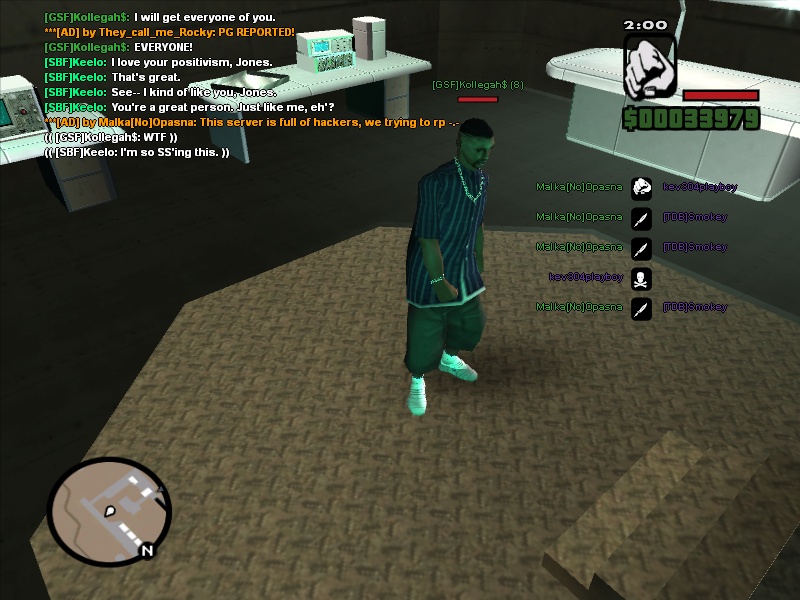 Well, as I stated above, this is what I called the ''wasteland'' into the topic since I find no other words for it, clearly--- fucked up.
-As you can see, Rhyme believed it was weapons, then my reaction when discovering the ''wasterland'' kind of say all.-